Becca Fitzpatrick is the New York Times bestselling author of HUSH, HUSH. She grew up reading Nancy Drew and Trixie Belden with a flashlight under the covers, and at one point, dreamed of becoming a spy, thinking it would be thrilling and sexy. Then she read BLOWING MY COVER: MY LIFE AS A CIA SPY by Lindsay Moran and changed her mind. She ended up graduating college with a degree in health, which she promptly abandoned for storytelling. Much to her delight, telling stories can be thrilling, sexy and dangerous. When not writing, she's most likely prowling sale racks for reject shoes, running, or watching crime dramas on TV. HUSH, HUSH is her first novel. ~ From beccafitzpatrick.com/

OBS: How did you get from a degree in health to writing books?
BF: Quite the switch, right? I started writing HUSH, HUSH in 2003, when my husband enrolled me in a writing class as a birthday present. It's all his fault, ha! Seriously though, it was instant love. I've always been an avid journal writer, but during that writing class, I knew I'd found the one thing I wanted to spend the rest of my life doing. If I hadn't sold HUSH, HUSH last year, I'd still be writing today. Writing and storytelling are a lot of work, but I'm slowly figuring out that the things in life that require the most work are also the most rewarding.
OBS: Who are your literary influences?
BF: I never tire of Jane Austen, Diana Gabaldon, Sandra Brown, Laurie Halse Anderson, Richelle Mead, Sue Grafton, Laurie R. King, and Juliet Marillier.
OBS: What are you reading right now?
BF: CRAZY BEAUTIFUL by Lauren Baratz-Logsted.
OBS: What is your favorite book of all time? and why?
BF: Oh man, it changes all the time. I do love PRIDE AND PREJUDICE. I also love THE JANE AUSTEN BOOK CLUB by Karen Joy Fowler. And OUTLANDER by Diana Gabaldon.
OBS: I was very surprised to learn Hush, Hush is your first book. You write like a pro, which is not easy to do. How did you gain those skills?
BF: I'm glad you think I write like a pro! I'm editing CRESCENDO, my second book, right now, and every time I'm deep into editing a book, the last thing I feel like is a pro. I usually feel completely lost and like a total hack. It's all part of the process. I don't think there are many writers who feel completely comfortable with, and proud of, their writing all the time. I know I don't. Even when HUSH, HUSH went to print, I couldn't help but think, "But there are still more things I need to fix! I need more time!" In the end, I think it comes down to learning to accept and celebrate what I have accomplished. Anyway, that was a very long and roundabout way of getting to what I really meant to say: thank you!
OBS: What other media do you use to help inspire you while writing (Music, Art, Movies, etc.)? Anything specific?
BF: Oh, wow, I'd never really thought about it. Chances are, I rely on a little bit of everything I see and hear in my day to day life. I can say with certainty that Romancing the Stone is the movie that made me decide, at eight years of age, that I was going to grow up to be a writer.
OBS: How did you come up with the fallen angel aspect of the story? What are your personal beliefs on beings like angels and demons?
BF: When I started writing HUSH, HUSH, I knew I wanted Patch to be the ultimate bad boy… but with a twist. He hadn't always been bad. In fact, at one point, he'd been really good, and something had caused this big change. While pondering what had caused Patch's fall from grace, the metaphor of "falling" that I was carrying around in my head became something quite literal – a fallen angel. Since I already knew Patch was going to be the ultimate bad boy, this revelation seemed perfect – after all, fallen angels are the original bad boys. As for my personal beliefs, I absolutely believe in angels and demons, although in some ways, they're quite different from the characters I've created in HUSH, HUSH.



Get the
Open Society Book Club Discussions
widget and many other
great free widgets
at
Widgetbox
!



(Author Bio via Amazon)
I grew up outside of Washington DC, but it always felt like I had one foot in the South. By the time I was thirteen, my family moved in with my grandmother and great-grandmother, and we had four generations of women living under the same roof – two born and bred in North Carolina. I grew up drinking sweet tea, eating vegetables cooked with a little bacon grease, and biscuits made from scratch. I mean, didn't everyone's great-grandma know how to skin a chicken, tat lace, and make dresses without a pattern?

I wasn't exactly like either of them. I wore a lot of black, a lot of rings, and spent hours writing in my journals. By the time I graduated high school, I had probably filled a hundred of them and gotten my friends more than a few dates with my poems. That was the beginning of writing for me.

I have an MA in education, and taught in the DC area until I moved to Los Angeles ten years ago. In addition to writing YA fiction, I am a Reading Specialist and continue to teach and lead book groups for children and teens, part-time. I have learned more from my students than I ever learned in school. I still live in LA, with my husband, son, and daughter. I'm very superstitious and have lots of charms. I love disaster movies, and I could easily live on pizza and Diet Coke.

Now what are you waiting for? Email your questions to news@openbooksociety.com
Have you ever read a book and wondered why an author wrote something the way they did, or maybe why they killed someone off. Then now is your chance, OBS is asking for any questions you might have for Kami Garcia , author of Beautiful Creatures.
Get the
Open Society Book Club Discussions
widget and many other
great free widgets
at
Widgetbox
!
"The one thing that drew her out of her boredom was the alethiometer. She read it every day, sometimes with Fader Coram and sometimes on her own, and she found that she could sink more and more readily into the calm state in which the symbol meanings clarified themselves, and those great mountain ranges touched by sunlight emerged into vision" (U.S. Knopf 2002 paperback edition pg. 150)


"The protagonist of this complex fantasy is young Lyra Belacqua, a precocious orphan growing up within the precincts of Oxford University. But it quickly becomes clear that Lyra's Oxford is not precisely like our own–nor is her world. For one thing, people there each have a personal daemon, the manifestation of their souls in animal form. For another, hers is a universe in which science, theology, and magic are closely allied. But Lyra's carefree existence changes forever when she and her daemon, Pantalaimon, first prevent an assassination attempt against her uncle, the powerful Lord Asriel, and then overhear a secret discussion about a mysterious entity known as Dust. Soon she and Pan are swept up in a dangerous game involving disappearing children, a beautiful woman with a golden monkey daemon, a trip to the far north, and a set of allies ranging from "gyptians" to witches to an armor-clad polar bear." (from amazon.com)



After writing his Sally Lockhart mystery series, Philip Pullman was discussing ideas with his publisher for his next book. He threw out an idea he had for a modern version of Paradise Lost by John Milton. The publisher told he to run with it, and the His Dark Materials series was born.
Called Northern Lights in the U.K., the title was changed when it arrived in the U.S. (much like the first Harry Potter). It was well received, and won numerous awards. The third book, The Amber Spyglass, received the Whitbread Award-awarded by other writer's as the best book of the year. It was the first children's book to win, and this opened the door for a film adaptation. The movie was not the first adaptation of the books. They did very well on the London stage, running multiple years at different times.
Writer/Director Chris Weitz (New Moon) was a fan of the books, and wanted to stay very close to Pullman's ideas. Pullman was on set some days, and available for collaboration, since the film was shot near his home in Oxford. While writing the script, Weitz had to be aware of the religious controversy that the books had caused and walk the line between being accessible to the audience and staying true to the book. The first book really has the least controversy in it; how they thought they would be able to adapt the rest of the series (especially the third one) is beyond me.
The movie was received with mixed reviews, especially in regards to the special effects and accuracy to the books. Many diehard fans of the books felt that the movie over-simplified the main concepts in the books in order to attract a wider audience. Chris Weitz has defended his adaption as an introduction to the world; at the time all three books were going to be made into movies.

Get the
Open Society Book Club Discussions
widget and many other
great free widgets
at
Widgetbox
!
Read the rest of the speaks out article
here
Stop by ourforum to tell us about your midnight viewing experience – was it difficult to hear the movie for the fans screaming? Did you see people in costume? Were the teens and tweens outnumbered by the "older women" and were men well-represented in your audience?

I'm 38. I'm a mom. I love Twilight. So, what better place for me to spend the night of November 19th than the local theater? Being a latecomer to the world of "Twilight" and completely oblivious to everything last year, I didn't know exactly what to expect going to a midnight showing of "New Moon". The thing that surprised me the most was how anxious and excited I was all day long on Thursday. I had adrenaline coursing through my veins from the time I woke up until the time I finally went to bed around 4:00 the following morning. I was jittery and bouncing around like Alice Cullen on a shopping spree all day. Considering my age and the fact that I take care of two little kids all day long, I feared getting too comfortable at home because I didn't want to get sleepy before I headed to the theater. When I learned that my theater was doing a screening of "Twilight" at 9:00, I logged onto Fandango and bought a ticket. I was thrilled that I would already have a nice, comfortable seat in one of the theaters instead of sitting on the cold tile floor in the crowded lobby for hours. I wondered what the night would be like – would I be the freaky "old lady" in a sea of tweens and teens or would there be others like me. I found that there were, indeed, plenty of others of "my kind" in attendance that night. Seeing how the next day was a school day and my town has a curfew for teens, the teens and tweens were greatly outnumbered for the midnight showing at my theater. I was pleasantly surprised to see that the majority of the people there were in their 20s, 30s, 40s, and even their 50s. I saw several men as well – some rockin' cloaks like a bunch of Volturi wannabes. There were even a couple of guys dressed like Felix and Demetri. This being my first big Twilight Saga event, I quickly learned how everyone is so friendly with one another. Being a people watcher, it was an interesting study in human nature for me. No one seemed to be judgmental of anyone else that evening. People were extraordinarily pleasant. I didn't witness the usual cattiness that tends to arise whenever more than two women are gathered in one place. Everyone was there for a common cause, regardless of whether you were Team Edward or Team Jacob. That night, it was Team Twilight. To paraphrase Sam Uley, it's like we're all "good with weird." Before the previews began for New Moon, the atmosphere inside the theater was like a party. Women and girls were checking out one another's Twilight-themed shirts, jewelry, etc. There were discussions about what we didn't like about the first movie and what we hoped to see in this installment. We talked about the cast appearances on the various talk shows during the week. The lights dimmed and the shhhh-ing began. What was once a raucous crowd grew quiet…until the trailer for "Remember Me" appeared on the screen and the ooh-ing and ahh-ing over our beloved Robert Pattinson kicked into gear. A russet brown Summit Entertainment logo appeared on the screen and the crowd became as silent as a bunch of church mice.
Get the
Open Society Book Club Discussions
widget and many other
great free widgets
at
Widgetbox
!
OBS new moon November
here is a re-casting of '
new moon
' – a re-casting with European Royal Dynasty. Because here in Europe we have still quite a lot Royals. Most Countrys are really proud of them and in a few they are not only for representation but also for leading their people. And because there are also very much young and (sometimes) good looking Princess and Prince here is '
new moon
' the royal way … like the Volturi are the Royals in Vampire-world.
Of course we are starting with leading actress,
Bella Swan
– I think
HRH Madeleine Thérèse Amelie Josephine Princess of Sweden and Duchess of Hälsingland und Gästrikland
could be nice. She is third and youngest child of Swedens King Carl Gustav XVI and Queen Silvia.
The big love of Bella – who leaves her, as we all know – is
Edward Cullen
– because he is the most gorgeous Prince in Europe I think
William Arthur Philip Louis Mountbatten-Windsor – HRH Prince William of Wales
would be perfect. He is first child of Prince Charles, Prince of Wales and Lady Diana.
Bellas best friend and Edwards 'sister'
Alice Cullen
could be
Princess Charlotte Marie Pomeline of Monaco
. She is second child from Princess Caroline of Monaco and her deceased husband Stefano Casiraghi.
To read the rest of Emily-Junes list of Royals check it out
HERE
According to
Get the
Open Society Book Club Discussions
widget and many other
great free widgets
at
Widgetbox
!
Do you enjoy reading young adult literature? If so, we're looking for you. INTERTWINED by Gena Showalter will be the featured book for the Young Adult Online Book Club.
Do you think you could summarize and develop discussion questions for a few chapters?

Are you reliable?

Have you already read the book?

If you answered yes to any of these questions, contact Dawn for more information.
There's something about the new guy at Crossroads High . . .

Most sixteen-year-olds have friends. Aden Stone has four human souls living inside him:One can time-travel.
One can raise the dead.
One can tell the future.
And one can possess another human.

With no other family and a life spent in and out of institutions, Aden and the souls have become friends. But now, they're causing him all kinds of trouble.

Like, he'll blink and suddenly he's a younger Aden, reliving the past. One wrong move, and he'll change the future. Or, he'll walk past a total stranger and know how and when she's going to die.

He's so over it. All he wants is peace.

And then he meets a girl who quiets the voices. Well, for as long as he's with her. Why? Mary Ann Gray is his total opposite. He's a loner; she has friends. He doesn't care what anyone thinks; she tries to make everyone happy. And while he attracts the paranormal, she repels it. For her sake, he should stay away. But it's too late. . .

Somehow, they share an inexplicable bond of friendship. A bond about to be tested by a werewolf shape-shifter who wants Mary Ann for his own and a vampire princess Aden can't resist. Two romances, both forbidden. . . doomed. Still, the four will enter a dark underworld of intrigue and danger. . . but not everyone will come out alive. . .
Contact dawn@openbooksociety.com for more info or to appy
Get the
Open Society Book Club Discussions
widget and many other
great free widgets
at
Widgetbox
!
Are you a fan of Maggie Stiefvater's books? If so, this is the perfect opportunity for you to talk with her and tell her everything you love about her stories. You will even be able to ask all your burning questions. Don't miss out.
In honor of SHIVER being the first Young Adult Book Club pick, Maggie has agreed to chat with us for an hour on November 13, 2009. We will start at the following times:
5:30 PM (Pacific Standard Time)

6:30 (Mountain Standard Time)
7:30 (Central Standard Time)
8:30 (Eastern Standard Time)
All you need to know is this web address:
http://www.chatzy.com/980579191396
and this password:
shiver
Get the
Open Society Book Club Discussions
widget and many other
great free widgets
at
Widgetbox
!
OBS staff members have complied a list of movies and TV shows that actors/actresses from the upcoming flick 'new moon' starred in. We think these shows and movies are definietly must-see, especailly to warm up to 'new moon'! This is just ONE of the awesome features in our 'New Moon November'!

Rachelle Levefre

Movie name: Do you know me 2009 (Caro's Pick)

Review: Ellie Carter is recently graduated and has it all. While celebrating with friend and boyfriend, she comes across a milk carton with a picture of a missing child that looks a lot like her. As a prank, they call the toll free number and she realizes that this person could be her. The more she finds out, the closer she gets to getting herself and beloved ones killed. This movie had intense scenes, different from seeing her as Victoria, but a good movie.
TV Show: Big Wolf on Campusyear 1999

Review: The week before he returns to school for his senior year, popular High School jock Tommy Dawkins is bitten and turned into a werewolf. The only person Tommy Dawkins can turn to for help is the school nerd and Goth Fantasy Guild President Merton J Dingle. Now Tommy & Merton while still looking for a cure for Tommy's condition fight a whole slew of baddies in Pleasantville including Mummies, Vampires, 50's Bullies, Witches. I mostly remember Rachelle from this show, when I saw that she would play Victoria, I was happy, she definitely understood the genre.
Movie Name: Untraceable 2008 (Dawn's Pick)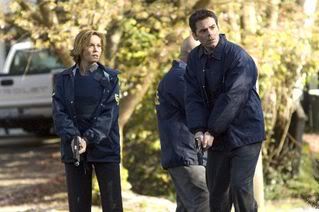 Review: Billy Burke plays Detective Eric Box. It's a race against the clock as they try to figure out the identity of the man who is torturing/killing people and putting it on the internet. Although it's graphic and sickening at times, it's an interesting movie and definitely worth seeing.
Movie Name: Fracture 2007
Review: Fracture is one of my all time favorites. Billy Burke is perfect as Lt. Robert 'Rob' Nunally, the man having an affair with Ted Crawford's wife. Detective Nunally is called to the scene of a crime, where he finds his lover shot by her husband. Despite confessing, Ted Crawford wiggles his way out of it. Sadly Nunally dies at the end, but his character plays a pivotal part in in the movie.
Jaime Campbell Bower
Movie Name: Sweeny Todd 2007 (Erin's Pick)
Review: You're probably not the least but interested in this if you don't like blood, but just to be safe: this is a bloody movie. But it's a well done adaptation from the stage, and actors you didn't know could sing do an amazing job. Jamie Campbell Bower actually has an amazing voice, and you worry about his Anthony getting involved with Sweeney from the get go. With Johnny Depp and Helena Bonham Carter, you know it'll be well acted. Funny and incredibly morbid blend well together; just don't see it if you're going to be eating soon.
Jackson Rathbone
TV Show: Criminal Minds 2009 (Chris's pick)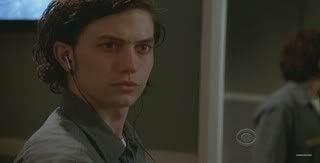 Review: Jackson gave an amazing performance in this drama tv series. He was the killer in this episode, but with a multiple personailty disorder, his 'normal' side, was a scared young guy that could be very innocent, his counterpart was a female with a nasty lust for vengence. He/She takes on young good looking men, that are the typical jerks. Jackson really protrayed the tormented character to a 'T', felt so real, and made me see that this young man is a fantastic actor.
Watch episode HERE
This is part one of three for Must-See List 'New Moon Actor Edition', so don't miss out on the next one!
What do you think about these movies and TV shows? Have you seen them, are they must-see, and do you have any suggestions for this special edition of Must-See list?
Get the
Open Society Book Club Discussions
widget and many other
great free widgets
at
Widgetbox
!
Each of the actors/actresses in twilight and new moon have brought something unique to the table. They all have different qualities that bring the character to life. So what we want to know is which of the stars do you look up to most and why? This is about the actual person (Kristen Stewert, Robert Pattinson, Taylor Lautner, Nikki Reed, etc) and not the character they portray in the movie.
Here are the rules of this contest along with the awesome prize you could win! Remember this contest only lasts one week, so you better hurry!
Which actor from The twilight Saga New Moon do you most look up to and why?
All you have to do is submit your answer to OBS, and we will pick the best response! I know you love these actors, so tell us why?!
RULES
*Best one will be posted in OBS Speaks Out
*Only one entry per person
*Entries must be received by midnight on 11/7
*Must be minimum 150 words
*Please keep it clean
*Send all entries to chris54@openbooksociety.com
Prize for winning: People Magazine's Collector's Edition about New Moon (November 2009) or a Twilight keychain
So rules are simple enough right? OBS wants to know what intrigues you about this actor, what about them makes them a role model, and what are some of their best qualities? You are welcome to choose any actor/actresses from 'New Moon', we don't care which one, we love to hear about all different people! We also welcome creativity, so that being said, you could send photos, or anything else that will help you prove your point!
So put your thinking cap on, and get to writing! You only got one week to give OBS the your opinion, so hurry up folks! Also, remember to write well and make us believe you, because the winner will have their submission as one of OBS exclusive Speaks Out articles, posted right here on the news blog!
Have any questions or comments? Please email me at chris54@openbooksociety.com
Current Mood:

contemplative
Get the
Open Society Book Club Discussions
widget and many other
great free widgets
at
Widgetbox
!
The next famous artist of fantasy themes I really like is M. C. Escher.
Maurits Cornelis Escher was born June 17, 1898 in Leeuwarden, Netherlands – and died March 27, 1972 in Hilversum, Netherlands. He was a Dutch-Frisian graphic-artist who is best known of his often mathematically inspired woodcuts, lithographs and mezzotints.




He was the youngest son, a very sickly child who was placed in a special school when he was seven. He failed the second grade. From 1903 until 1918 he attended primary and secondary school. Though he excelled at drawing, his grades were generally poor. He briefly studied architecture, but he failed a number of subjects and switched to decorative arts. In 1922 Escher left the school, having gained experience in drawing and making woodcuts, traveled through Italy and Spain and where he was impressed by the Italian countryside and by the Alhambra in Granada. The same year he met his wife, Jetta Umiker.
Escher's first print of an impossible reality was 'Still Life and Street' (1937). His artistic expression was created from images in his mind, rather than directly from observations and travels to other countries. Well known examples of his work also include 'Drawing Hands' (1948), a work in which two hands are shown, each drawing the other.
Bibliography of M.C. Escher
mcescher.com
Many books have been written about M.C. Escher and his work.
M.C. Escher: His Life and Complete Graphic Work

by J.L. Locher, Amsterdam 1981
Een Biografie
by W. Hazeu, Amsterdam 1998
The Graphic Work of M.C. Escher
by M.C. Escher
The Magic of M.C. Escher
by J.L. Locher and W.F. Veldhuysen, New York, London 2000
M.C. Escher: Visions of Symmetry
by D. Schattschneider, New York and London, 2004
Escher on Escher: Exploring the Infinite
by M.C. Escher, Amsterdam, 1986
The Magic Mirror of M.C. Escher
by Bruno Ernst, Amsterdam, 1976



Read more on M.C. Escher HERE
Current Mood:

busy
Get the
Open Society Book Club Discussions
widget and many other
great free widgets
at
Widgetbox
!